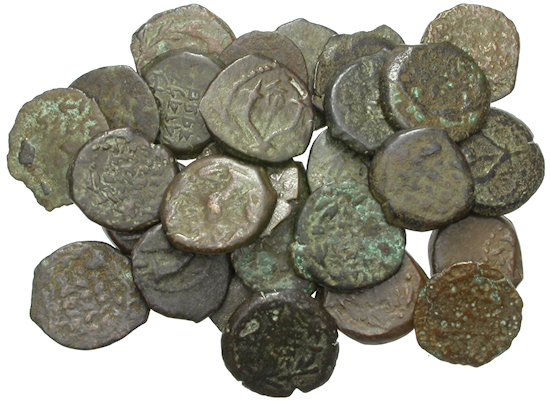 Hannukah, Maccabees, Judaean Kingdom, Hasmonean Dynasty, c. 104 - 37 B.C.
Hanukkah or Chanukah celebrates the re-dedication of the Second Temple in Jerusalem during the Maccabean Revolt of the 2nd century B.C., in the Hasmonean Dynasty of Hebrew Kings.
Beginning on the 25th day of Kislev according to the Hebrew calendar, the 8-day festival is built around the ritual involving a multi-light Menorah, adding one more light on each succeeding evening for a total of 8 evenings. Presents are usually given on each night, making Hannukah a much more pleasant experience than some less generous single-day holiday festivities.
Set of 3 beautiful and nicely cleaned Maccabee Revolt (Hasmonean) coins mounted for you in a gorgeous velvet presentation box suitable for gift-giving.
$125.00
Subject to availability, due to conflict in the Middle East.