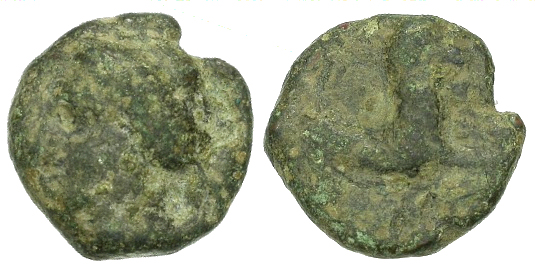 TANIT -- Siculo-Punic, 4th Century B.C. found at Nag-Hammadi
FOUND AT NAG HAMMADI!!!
No idea why it was there, but that's where this coin was found.
Bronze AE 14, SNG Cop 1021 ff., Fair, Sicilian, 3.047g, 14.2mm, 270o, obverse head of Persephone-Tanit left; reverse horse prancing right.
Shows signs of desert wear and weathering. Nice connection with the Gnostics; Nag Hammadi is also known as Oxyrhynchus and in ancient times when occupied by the Greeks as a colony, it was called Chenobskion.
$225.00