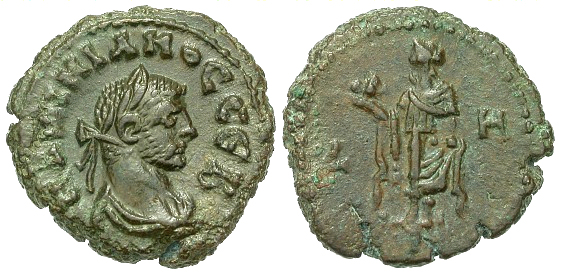 ELPIS -- RARE -- Maximianus, 286 - 305, 306 - 308, and 310 A.D., Roman Provincial Egypt
Maximianus, 286 - 305, 306 - 308, and 310 A.D., Roman Provincial Egypt --
Elpis was the Greek equivalent of the Roman Spes, the goddess of hope. She was traditionally defined as "the last goddess" (Spes, ultima dea), meaning that hope is the last resource available to men. Elpis personified hope for good harvests, and for children, and was invoked at births, marriages, and other important times.
Billon tetradrachm, SNG Cop 1052, cf. Milne 5067 (B in ex), cf. BMC Alexandria 2558 (A in ex), Kampmann 120.72, Curtis -, Geissen -, VF, 6.492g, 20.4mm, 0o, Alexandria mint, 29 Aug 292 - 28 Aug 293; obverse "MAXIMIANO"C C"EB", laureate, draped and cuirassed bust right; reverse Elpis standing left, flower in right, raising drapery with left, star behind, L - H (year 8) across fields, "G" (3rd officina) in ex; RARE THUS.
Super-sharp & clear and very visually appealing, this is a very HOT psychometric and a great addition to any numismatic collection; it is RARE in this state and variant, and extremely hard to find.
$180.00