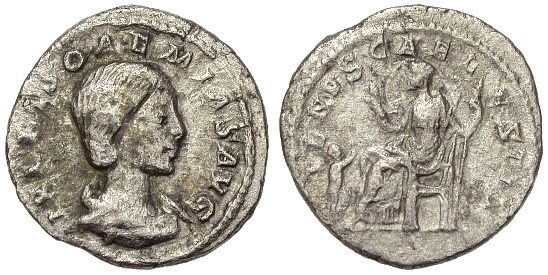 VENUS RARITY -- Julia Soaemias, Augusta, 16 May 218 - 11 March 222 A.D.
Delicious and delightful, a thoroughly beautiful silver denarius with a crisp image of Aphrodite/Venus on the reverse; hard to find this coin in this variation, type and condition.
Venus was a major Roman goddess principally associated with love and beauty, the rough equivalent of the Greek goddess Aphrodite.
Silver denarius, SRCV II 7720, RIC IV 243, RSC III 14, VF, rough, 2.024g, 18.4mm, 180o, Rome mint, 220 A.D.; obverse IVLIA SOAEMIAS AVG, draped bust right; reverse VENVS CAELESTIS, Venus diademed seated left on throne, apple in right, scepter in left, child at her feet
$225.00