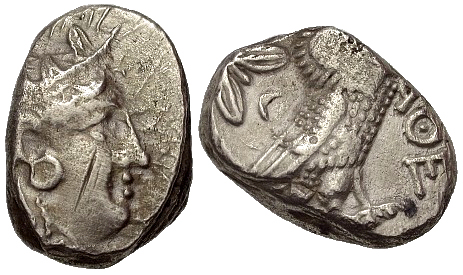 UNCUT -- Athens, Greece, Eye-in-Profile Style Pi Type Tetradrachm, c. 347 - 294 B.C.
In 407 BC Sparta captured the Athenian silver mines at Laurion and released 20,000 mine-working slaves. Athens was forced to issue bronze coins with a silver coating. Following this war, the silver tetras were identified by gouging out a section of the owl's face. Those coins not gouged in this way have typically increased in value some 400% over the four years.
The "Pi Type" designation is based on the "P" shape of the floral spiral and palmette ornamentation on the helmet bowl.
Silver tetradrachm, SNG Delepierre 1474 (also oblong), SNG München 91 ff., SNG Cop 64 var, VF, old scratch, oblong flan, 16.786g, 25.0mm, 225o, obverse head of Athena right with eye seen in true profile, wearing crested helmet ornamented with three olive leaves and floral scroll; reverse owl standing right, head facing, to right A"Q"E in large lettering, to left olive sprig and crescent.
This is among the top ten ancient coins, "the coin that built the Parthenon" and is considered the most famous coin of the ancient world. It is getting harder and harder to find uncut Athens Owl coins.
$850.00