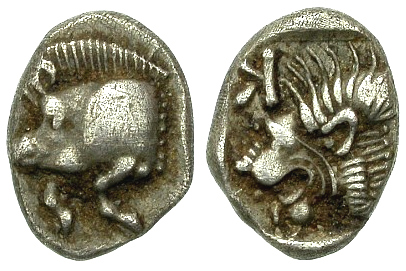 PIG IN A POKE? -- Silver obol Kyzikos, Mysia, c. 475 - 450 B.C.
One of the juiciest psychic reading coins I've ever found, this cute little coin is just the greatest if you like long, involved stories!
Silver obol, SNG Cop 50; Klein 266; SNG von Aulock 1215; SNG Tübingen 2228, BMC Mysia p. 35, 121; SNG Kayhan -, VF, sharp, 0.815g, 10.0mm, 0o, Kyzikos mint, c. 475 - 450 B.C.; obverse forepart of boar running left, tunny fish upwards behind; reverse head of roaring lion left, backwards K above left, all in incuse square.
$225.00