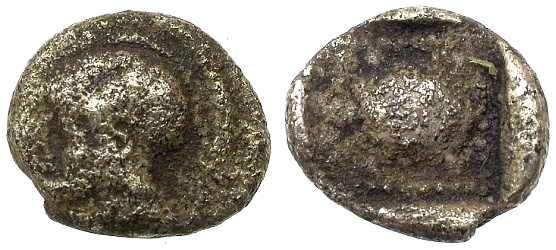 Methymna, Lesbos, c. 500 - 450 B.C.
This rare type must have been struck at Methymna, based on style and composition (also note the dotted frame). In addition, this coin came in a group comprising several other Lesbos fractions.
Silver obol, Gorny 170, lot 1419; cf. Klein 793 (attributed to Lycia, Athena facing right); SNG Cop -; SNG von Aulock -; SNG München -, F, 0.460g, 8.6mm, Methymna mint, obverse helmeted head of Athena left; reverse turtle within dotted frame and incuse square. VERY VERY RARE!
$325.00