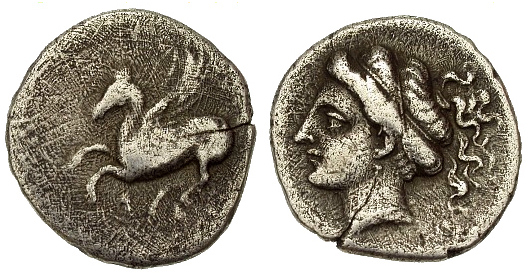 Rare APHRODITE -- High Psychometric -- Corinth, Corinthia, Greece, 308 - 306 B.C.
One of the HOTTEST psychometric coins I've had in my hands, this was high-priced but I had to get it.
Silver drachm, BCD Corinth 150, Weber 3700, SNG Lockett 2122, F, porous, 2.345g, 16.2mm, 45o, 308 - 306 B.C.; obverse Pegasos left, koppa below; reverse head of Aphrodite left, hair in a sakkos, small O behind. RARE and BEAUTIFUL. The camera does not do it justice!
$1500.00