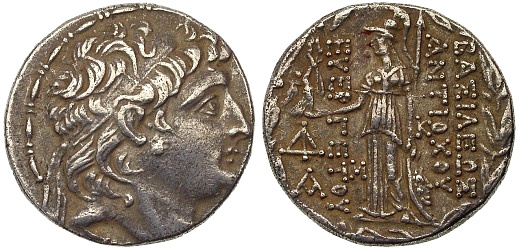 LARGE & SPECTACULAR Cappadocian Kingdom 130-80 B.C.
An unusually large and spectacular silver coin about the size of a US half-dollar!
Cappadocian Kingdom, c. 130 - 80 B.C.; In the Name of the Seleukid King, Antiochus VII.
Oliver Hoover, in Coins of the Seleucid Empire from the Collection of Arthur Houghton, attributes this type to the Cappadocian Kingdom, c. 130 - 80 B.C. The symbols were used on Cappadocian royal coinage, the coins are found in Cappadocian hoards and a tetradrachm naming the Cappadocian King Ariarathes VII Philometor (116 - 99 B.C.) bears the obverse portrait of Antiochus VII. He notes they may have been struck to pay foreign mercenaries who preferred the coin types of Antiochus VII.
Silver tetradrachm, Houghton II 649, Newell SMA 299, SNG Spaer 1875, gVF, 16.120g, 28.3mm, 0o, obverse Antiochos VII diademed head right, horn like lock of hair above ear, fillet border; reverse "BASILEWS ANTIOCOU" (on right) "EUERGETOU" (on left), Athena standing left, Nike in right, spear and shield in left, ligate "DI" / A left, M inner left, K inner right, Nike crowns epithet, laurel wreath border. RARE & hard to find, TOTALLY RARE in this spectacular condition and aspect!!!
On top of all that, this coin is psychometrically HOT HOT HOT +++.
Truly a masterpiece; It was part of a very expensive collection; I bought it disregarding the price. I can get cheaper varieties of this coin, but nothing even close to this quality and SPECTACULAR eye-appeal!
$1250.00