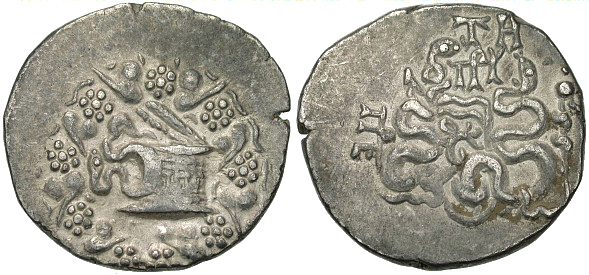 RARE SNAKES wound around ASKLEPIAN STAFF -- Pergamon, Mysia, c. 76 - 67 B.C.
ASKLEPIAN STAFF -- Pergamon, Mysia, c. 76 - 67 B.C.
Similar cistophoric tetradrachm types were struck from about 166 to about 67 B.C.
Silver cistophoric tetradrachm, Kleiner Pergamum 49, Pinder 118, VF, 12.120g, 27.3mm, 0o, Pergamon mint, c. 76 - 67 B.C.; obverse cista mystica with snake, all within ivy wreath; reverse bow-case with two snakes, TH over "PRU" monogram above, Pergamon monogram left,; snake entwined Asklepian staff; VERY RARE THUS and extremely hard to find in this high-psychometric state.
Not only is this a HOT psychometric in the area of ASKLEPIUS, it is a very, very large and beautiful silver coin between the size of a US quarter and a half dollar.
You can find the two snakes, but not with the Asklepian Staff!!! Priced according to the rarity of the type and variation. Most collectors are not aware of, nor are they interested in, the Asklepian aspect, but we certainly are!!!
Perfect acquisition for someone who lived a past life in the Ancient Greek Mystery School.
$650.00