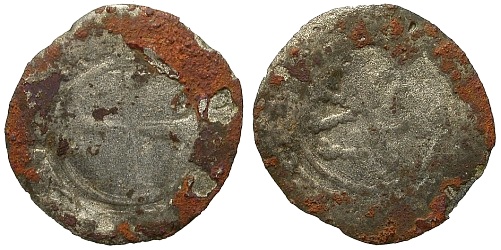 KNIGHTS TEMPLAR -- Crusaders, Kingdom of Cyprus, Henry II, 1285 - 1306 and 1310 - 1324
KNIGHTS TEMPLAR GRAVESITE -- Crusaders, Kingdom of Cyprus, Henry II, 1285 - 1306 and 1310 - 1324.
From the collection of Alex G. Malloy, former dealer for 40 years and co-author of "Coins of the Crusader States." Ex A.J. Seltman Collection.
Billon denier, Malloy Crusaders 66, VG, weight 0.499g, maximum diameter 15.2mm, die axis 180o, obverse + hENRI REI DE, cross pattée; reverse + IhRL' m E D' ChIPR', lion of Cyprus rampant left.
Another coin I had to force myself to list, but I DO want these HOT psychometrics in good hands!!!
Of course you'd never dream of touching it with fingers; it needs special handling in a special container, and that's why I'm offering to encase it in one of my air-tight capsultes which actually help the "reading" of a coin.
This is a stupendously splendid example of a HOT HOT HOT psychometric coin. It will provide many hours of image & audio for the psychic-sensitive to explore.
A number of scenes are of various travels, and this coin has seen a lot in its day, been a lot of places and traded with the rough and ready.
Not for the squeamish or the timid, there are vivid and sometimes difficult to endure scenes of violence and serious bloodshed among the quiet and placid scenes (far fewer, alas) and the market and trade route images. Somehow it ended up in a grave known to be that of a Templar.
A truly beautiful coin to behold, the photo doesn't capture it; a lot of this coin is the "vibe" it puts out as well. There's something eerie about being in its presence. I'd have put a higher price on its head, but I know this needs to get into the hands of its former owner...is that you???
$450.00